I recently had to find replacement bulbs for the buttons on my Digital Climate Control display: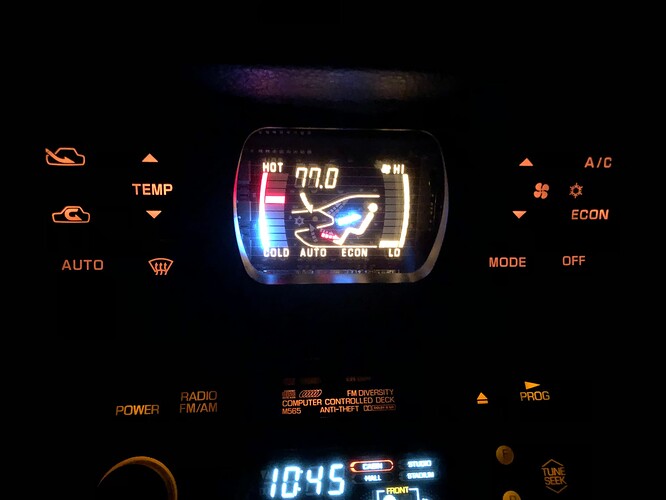 There's one bulb on each side of the display, accessible from the back of the unit (gray circle part in this pic; ignore broken mounting tabs - this is a junk donor unit):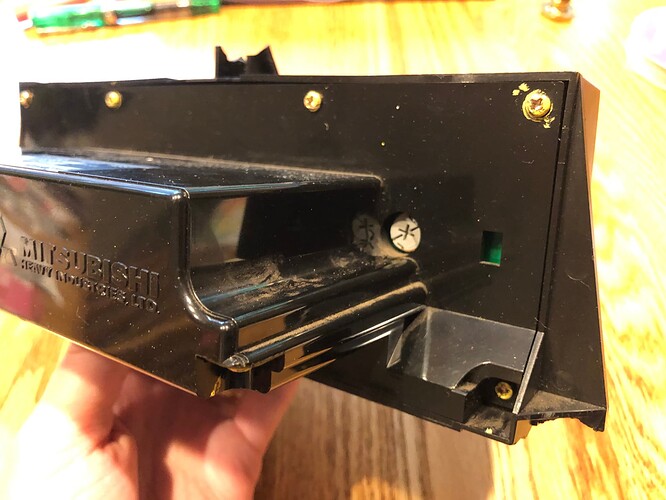 About 1/8 of a turn counter clockwise with a flat blade screwdriver, and the bulb comes out.
Unfortunately, there's no part number or specs available from Mitsubishi on these bulbs. I didn't have much luck finding info online either. The best I found was that you can use Radio Shack 272-1092 Micro Lamps (reuse original plastic base, rebuild with new bulbs). However, it's been reported that these bulbs are dimmer than stock.
I'm trying to retain as close to stock/original appearance as possible, so I want to match the color and brightness. The Radio Shack bulbs draw 60mA @ 12V, so I at least know I need an incandescent bulb that draws more than that. I'm avoiding the rabbit hole of LED conversion, because color/brightness will most likely be different and then I'd need to upgrade all other interior button/indicator bulbs for consistency (I've also seen some people complain of flickering with LEDs at low dimmer levels).
After some quality time with my digital caliper and looking at way too many technical drawings of various bulbs, I found a nearly identical physical match to the original bulbs that draws 85mA @ 12V (42% more than the Radio Shack bulbs): T-1 1/4 Neo Wedge PCB Lamp 14V DNW1-DW10/12.5MM/BLA from JKL Components
Stock (gray) bulbs and JKL (black) bulbs side-by-side for comparison, both with and without the original color filters: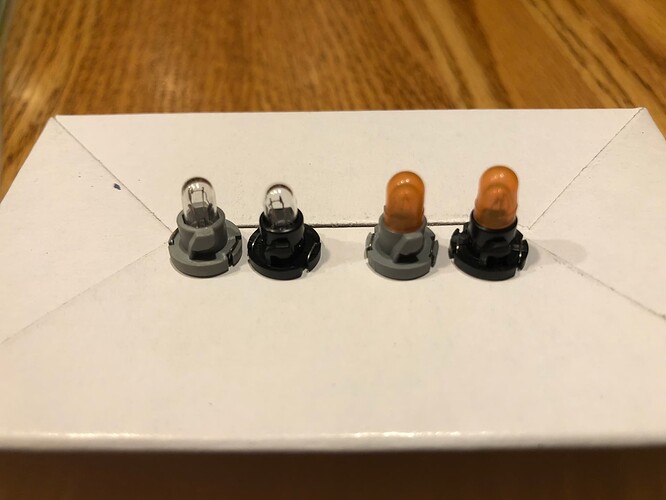 The Good:
Direct fit replacement bulb without any modification or rebuilding with the original base.
Identical brightness as stock bulbs as far as I can tell with my eyes (I tested with one replacement bulb and one good stock bulb installed at the same time to compare).
The Bad:
This bulb is "end of life" from the manufacturer, so once the current available stock is sold, these are gone forever.
Minimum purchase is a pack of 10 bulbs. It was $18.74 USD shipped for me (in the US).
NOTE: When first installing the JKL bulbs, it's a tight fit. Be sure to use a flat blade screwdriver that fits into the slot snugly and is as wide as the entire slot to avoid damaging the slot in the base as you twist it into place a bit harder than you might expect. The first time for each bulb will slightly deform the part that grips the circuit board, and subsequent installs of the same bulb are much easier.