Hey guys
Another portion of my findinds to share with you whilst I was working on the front end.
My oil pressure sender was in a bit of a sorry state, tho working but corrosion was telling me that it is just a metter of time it gives up or worse starts leaking.
So I was doing some research. The original part availability seems to be very limited and price tag is not user friendly
so was browsing for alternatives and stumbled across this ebay listing: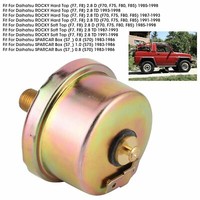 Look at this on eBay
Engine Oil Pressure Sensor Sender Gauge Assy 83520‑60011 Fit for Daihatsu ROCKY
Decided to give it a try. £16 not that much to gamble with. Arrived surprisingly quick.
Fits and works perfectly, the only flaw is, cos probs the resistance curve if slightly different to the original, that the reading is a few divisions higher on the gauge.
So overall maybe not a 100% replacement but in times of desperate need - a workable solution for not that much money.