Yesterday I introduced the crankshaft pulleys into the Joes Gems section and today I have the tool for locking off the pulley so that you can remove and re tighten the center bolt without damage.
Uploading: pulley tool.jpg…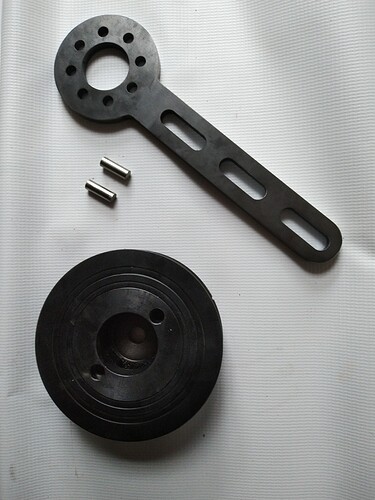 The tool from Mitsubishi costs hundreds of £$ so most people just use their own wisdom to come up with ways to lock this off. This often results in damage and broken knuckles. This tool is custom made for the job. It comes with 2 pins that can be positioned in 4 different positions for easy locking at an angle which is most comfortable for you. It is made from 10mm steel and the 2 pins are stainless steel. There is a large hole in the center to fit your socket piece and breaker bar. If you want to do the job right, you need this tool and if you only need it the one time, you can then sell it on ebay after you have finished.
The price is just £29 plus post.
You can contact me by private message or phone, text or whatsapp 07846976691 if you are interested.